Many people can not wait to reach the age of retirement and enjoy their golden years without the stress of holding down a career. Most people who choose to retire at the age of 65 have worked for the majority of their life and are ready to enjoy all of the carefree benefits that come along with retiring. Here are three great reasons to look forward to retirement.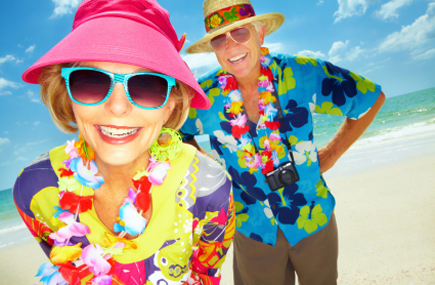 Time to Travel
Working forty hours or more each week does not leave a lot of spare time to travel the world. Many people are not even able to take a one or two week vacation each year while they are busy focusing on building their careers. During retirement, there is no set schedule to live by and people are free to travel to all of the amazing destinations they have always dreamed of visiting. Many retirees pack up their things and take off on a cross-country trip in a trusty RV. Others may choose to visit their children or grandchildren for several months out of the year especially if they live in a different state or country. Those who have managed to invest their money wisely over the years have the opportunity to go on lavish trips or cruises any time they choose. Traveling is a great way to learn about different cultures, meet new people and feel young once again.
Time to Take Care of Yourself
Raising a family and building up a successful career takes up a lot of time. Many people dedicate their lives to taking care of others and end up neglecting their own health issues. While it is not wise to wait until your retirement years to start making better health care decisions, this period supplies you with plenty of time to concentrate on your health and come up with a good diet and exercise plan. When you no longer have to report to an office every morning or show up at a warehouse at 5AM, you have more time to take a morning walk around the neighborhood, plan a healthy breakfast, and make regular appointments with your physician. Some individuals wait until they retire to have certain procedures done that are not life-threatening but can help to make their quality of life much better such as hip or knee replacement surgery. Retirement is an excellent time to start having regular health screenings done such as having your blood pressure checked, checking cholesterol levels and setting up annual tests to screen for cancer. Taking these precautions can help to keep you healthy and safe throughout your retirement years.
Time to Learn Something New
Retirement is an excellent time to take on a brand new hobby or sport. Many retired couples relocate to country club communities that have access to private golf courses and tennis courts. Trying out a new sport is a great way to stay healthy and active while enjoying the company of others. Taking on a new hobby is another fun way to enjoy your retirement years. Woodworking, knitting, fishing, planting a garden or learning to cook exciting new recipes are all fun activities that can help keep active seniors on their toes. Some retired seniors may want to use their free time to enhance their education by going back to school. It is not uncommon for retired individuals to return to the classroom in order to earn a degree or to simply just learn more information on an interesting subject.
Author Bio
Kate Johnson writes and edits "Retire Away." She is currently living the high life, retired in Northern Belize. She recently published a piece on the best retirement communities in Pennsylvania.