Comfort Keepers offers a great new resource for caregivers of the past. Comfort Keepers shines light on three caregivers that deserve particular attention for stand out experience.  These three women have shaped and molded the term "caregiving" into what it is today and Assisted Living Today wanted to shine light on their top notch work as well. You can view the full series on the Comfort Keepers website but below is a synopsis of what Comfort Keepers had to say.
Elizabeth Branwell 
Elizabeth "Aunt" Branwell is one of these behind-the-scenes-heroes. Aunt Branwell cared for the Bronte Family who were famous for their gothic romances, Jane Eyre and Wuthering Heights. Though their famed stories are far reaching, many don't know that Aunt Branwell stood behind them as a faithful and selfless caregiver. During an age when lives were short, sickness and disease ran rampant, and the term 'caregiver' wasn't yet a formally recognized term, women like Aunt Branwell played an integral role in the upkeep of the Bronte household and their place in society.
Caring for seven people is a daunting task in itself. However, in June of 1825 Aunt Branwell was put to the test after a string of tragedies hit the Bronte family. The oldest children died of tuberculosis that they contracted at school and their father removed the other children from school. Aunt Branwell was held responsible for their education from then on. Without her assistance, it's unlikely that their father alone would have been able care for his children during those years. Further, without Aunt Branwell's guidance and educational support, Emily, Anne and Charlotte may not have become the prolific writers we know today.
Dolley Madison
Dolley was a trendsetter, she was the first presidential spouse to renovate the White House and was known for hosting large events. Likewise, her exploits during wartime earned her the name "Mother of the Nation." Collectively, these actions helped reconstruct the role and responsibilities for First Ladies to come.
After her influential years in the White House, Dolley and James took charge of the beautiful Madison plantation home in Virginia. James' mother, Nelly Conway Madison, lived on one side of the plantation home. Dolley and her mother-in-law were very close and as Nelly aged, Dolley became her sole caregiver. At one point, Nelly turned to Dolley and said, "You are my Mother now, and take care of me in my old age." Dolley devoted her life to caring for Nelly until she passed away at age 98.
Rosalynn Carter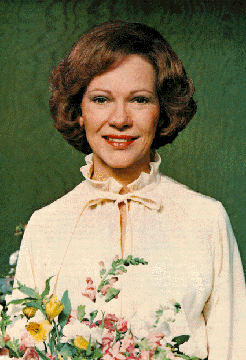 No one has done more to recognize and address the struggle of the caregiver than Rosalynn Carter. Known for her purpose driven life, Rosalynn Carter, wife of former President Jimmy Carter, is often referred to as a "powerful champion of caregivers." Rosalynn has spent more than four decades improving quality of life for people around the world. Today, she is a leading advocate for mental health, caregiving, early childhood immunization, human rights and conflict resolution.